Student Ministries Pastor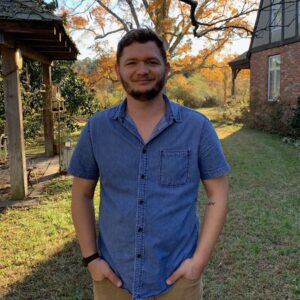 Terry Bennett is our Pastor of Student Ministries and Worship. Prior to Central, Terry served as the youth pastor at Rock Hill First from 2012-2016. Terry has also served churches in Pelion and Orangeburg, SC.
Terry began serving in ministry while he was a senior in high school. After high school graduation, Terry went on to serve at Orangeburg First Church of the Nazarene as their Worship Director.
Just two months after beginning his ministry at Orangeburg First, Terry accepted God's calling to youth ministry while participating on the South Carolina District Impact Tour.
That week Terry met Kate, and the two were married five years later in 2014. In 2011, Terry transitioned from Worship Director at Orangeburg First to Youth Pastor at Pelion Church of the Nazarene. It was also in 2011 where Terry received his District Minister's License. Terry accepted the call to Rock Hill First in 2012, where he continued in youth ministry. In 2015, Terry began serving the South Carolina District NYI as the Vice President. He was ordained as an Elder in the Church of the Nazarene at the 2017 South Carolina District Assembly. His greatest pleasure in life
is getting to teach teenagers about following Jesus.
Terry enjoys coffee, writing music, and spending time with Kate and their dog, Jules. Terry is also an avid fan of Star Wars.